Madame Claude: Her Secret World of Pleasure, Privilege, and Power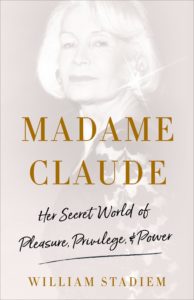 by William Stadiem
Available from St. Martin's Press
Vogue: One of the 17 Best Books to Pack for Your Summer Vacation
"Chalk it up to finally starting The Crown—I know, late to the game—but this summer I've turend to William Stadiem's riveting tale of a post-World War II Paris Madame's "finishing school." Madame Claude: Her Secret World of Pleasure, Privilege, and Power is as salacious as you'd expect, but is filled with delightful surprises as well." —Edward Barsamian, Style Editor, Vogue
"An eye-opening biography of 'the elegant French Queen of Sex' …  it's good fun to see what devils some of our political and cultural heroes really were." —Kirkus Reviews
The life of Madame Claude, the brilliant and complicated and utterly amoral woman behind the most glamorous and successful escort service in the world.
In post-WWII Paris, Madame Claude ran the most exclusive finishing school in the world. Her alumnae married more fortunes, titles and famous names than any of the Seven Sisters. The names on her client list were epic―Kennedy, Rothschild, Agnelli, Onassis, Niarchos, Brando, Sinatra, McQueen, Picasso, Chagall, Qaddafi, the Shah, and that's just for starters. By the 1950s, she was the richest and most celebrated self-made woman in Europe, as much of a legend as Coco Chanel.
Born Fernande Grudet, a poor Jewish girl in the aristocratic chateau city of Angers, the future Madame led a life of high adventure―resistance fighter, concentration camp survivor, gun moll of the Corsican Mafia and erstwhile streetwalker―before becoming the ultimate broker between beauty and power. She harnessed the emerging postwar technology of the telephone to create the concept of the call girl. But Madame Claude wasn't just selling sex―she was the world's ultimate matchmaker, the Dolly Levi of the Power Elite.
She was also one of the most controversial―and most wanted―women in the world. Now, through his own conversations with the woman herself and interviews with the great men and remarkable women on whom she built her empire, social historian and biographer William Stadiem pierces the veil of Claude's secret, forbidden universe of pleasure and privilege.
Buy Now from these online retailers:
---
---